Olivia Cindy Kohar, Seat of Wisdom Praesidium, Church of St Mary of the Angels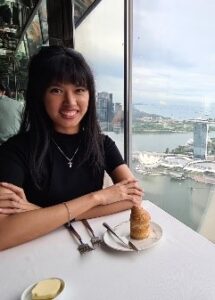 My name is Olivia from the Seat of Wisdom Praesidium. I joined the community 2 years ago. At the first legion meeting, the joy and happiness in the room impressed me deeply, especially as I listened to legionaries' reports on their assigned work, visiting our brothers or sisters at the hospital or at home. I could feel a lot of love and spiritual fruits from the sharing.
In my view, the Legion of Mary aims to lead us forth united, to kindle everywhere the fires of divine love. I feel that the mission is pure, and it's aligned with my calling.
I have learnt a lot along the journey: humility, openness, calmness, and how to quickly connect with others. I'm very glad to be a legionary, as it has been helping me to grow spiritually and personally, especially how to stay calm in any circumstances. I hope that more brothers and sisters who are searching for a place to grow can join us, to spread Divine Love with Mother Mary.